Drop dead
Nov 03, 2014
I've had a Dropcam for the last six months or so, mostly to keep an eye on my house and pets when we're gone. It has a couple monitoring features where it records video loops when it detects motion and takes photos when it detects motion as well. You have to pay a monthly fee to get access to both, but you still get periodic emails when the camera senses activity and it'll send a medium sized low-res picture several times a day embedded in the message.
I never thought much of this until I opened an email to see a photo of me completely naked walking by the camera, on my way to grab from a pile of recently folded clean clothes after I took a shower.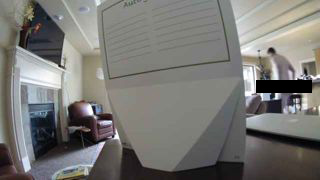 Obviously, that's a bit of a shock, but I was home alone and I'm the only one that opens my email, so I wasn't too disturbed by it. But then I realized that image is on Dropcam's system. And Google bought Dropcam so my photo is somewhere in Google's cloud. There's a web-accessible photo of my naked ass (with no black bar added above) somewhere and I have no idea where it is or how easy it is for anyone to find. Wonderful.
It's at this point you ask yourself if having a net-connected camera for monitoring your house was a good idea after all.